The Es Vedrà islet in the municipality of Sant Josep is one of the most emblematic places on the island and is full of stories and legends.
If you have friends or acquaintances who have spent their holidays in Ibiza, it is very likely that they will recommend you to watch the sunset from one of the viewpoints on the Es Vedrà islet. This Nature Reserve leaves no one indifferent and has become a must for travelers who want to enjoy a unique and privileged environment.
The incredible panoramic view that can be seen from the beach of Cala d' Hort, Torre d' es Savinar or the cliffs of the area is even more emblematic when we know some of its stories and legends. To give just one example, the artist Mike Oldfield was attracted and inspired by the magnetism of Es Vedrà and put it on the cover of his album "Voyager".
Another common legend is the sighting of UFOs (unidentified flying objects). In fact, in 1979 a commercial plane bound for Ibiza, coming from Mallorca, had to land in Valencia because the pilot said he noticed the presence of strange red lights on his way through Es Vedrà.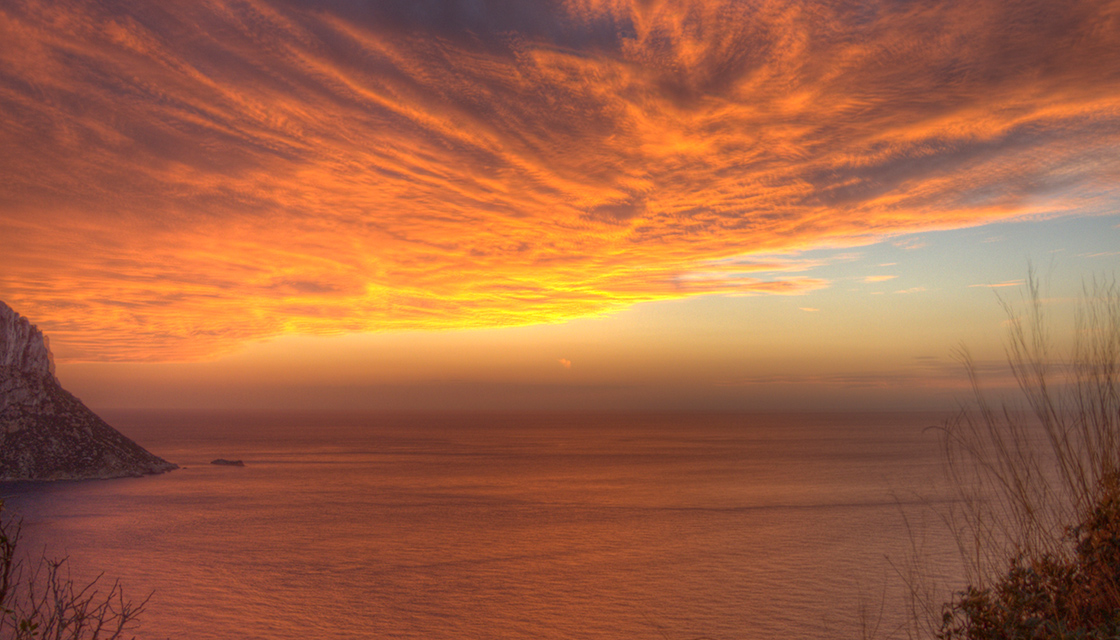 In the 1960s, moreover, the hippie community considered the area a mystical and unique place for meditation. Even a priest (Father Palau) said he witnessed strange visions of the islet's sky in the mid-19th century. The peace and quietness of the place has given rise to many similar stories and anecdotes.
What there is no doubt, apart from legends, is that Es Vedrà and the entire area of the Nature Reserve are a must visit for its very high landscape value and incredible views. To get there, follow the signs to Cala d'Hort beach and, once there, follow the signs to Torre d' Es Savinar.
Don't miss the opportunity to visit this and other places that we recommend in Villa Can Coves and book your accommodation with us to complete an unforgettable stay. Renting a villa in Ibiza is the perfect complement to spend a perfect holiday in contact with the unique environment provided by the island.