Ibiza is famous for its beaches. The number and variety of them is enormous. From Villa Can Coves we show you 7 that you can't miss.
If you come on vacation to the white island and you're already clear that you want to rent a villa in Ibiza, you may be wondering about the places and corners that the locals appreciate most. As far as Ibiza's beaches are concerned, you can find them for all tastes (family, quiet, nudist, urban,...) although many times the most hidden or less accessible ones go unnoticed. So that you do not leave any undiscovered, here we bring you 7 beaches that you cannot miss during your holidays in Ibiza.
Aguas Blancas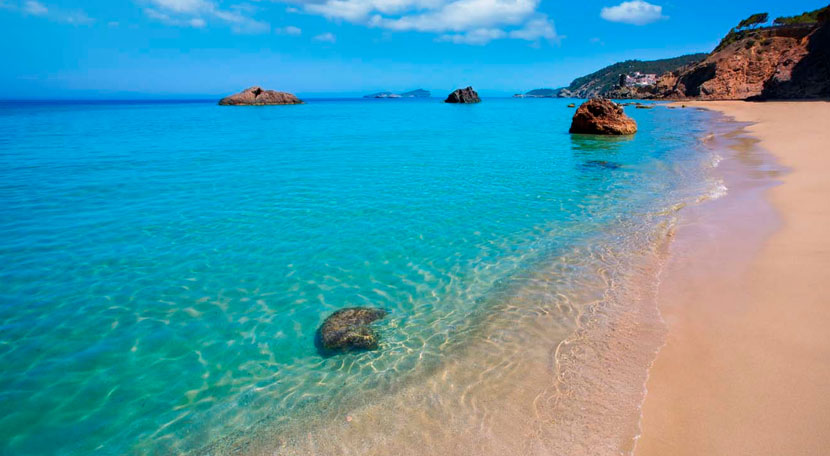 Aguas Blancas is one of Ibiza's most famous beaches for nudism. Even so, it is also one of the beaches of Ibiza with the highest number of families during the summer season. Bordered by impressive cliffs and crystal clear waters, it is perfect for spending the day on your own, with your partner or with your family.
Benirrás
Benirrás is one of the best beaches on Ibiza according to many locals and regular tourists to the island. It is located in a natural environment without equal and on Sundays you can enjoy the unique "fiesta de los tambores", an echo of Ibiza's hippie past. The sunset on Benirrás beach is really nice.
Cala d'en Serra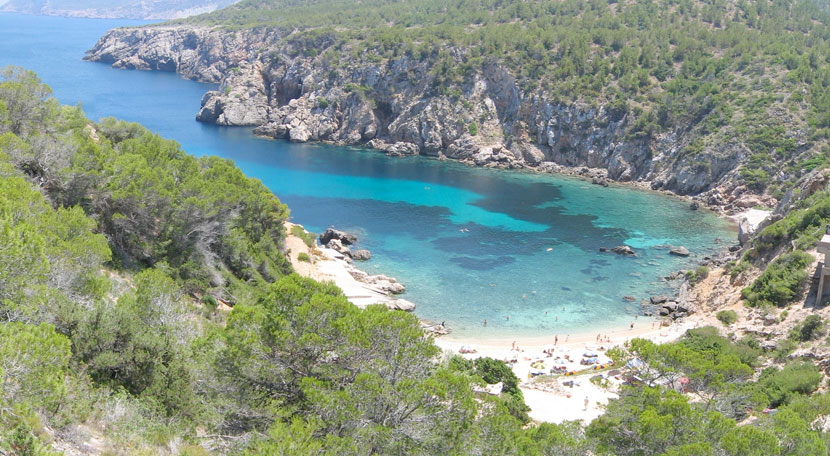 Cala d'en Serra is a particularly quiet beach in Ibiza due to its difficult access. Totally surrounded by nature, this beach of Ibiza offers very calm waters that invite you to take a bath while you enjoy the surroundings. In addition, you can find an adjacent cove even more secluded if you go swimming from Cala d'en Serra.
Cala Xarraca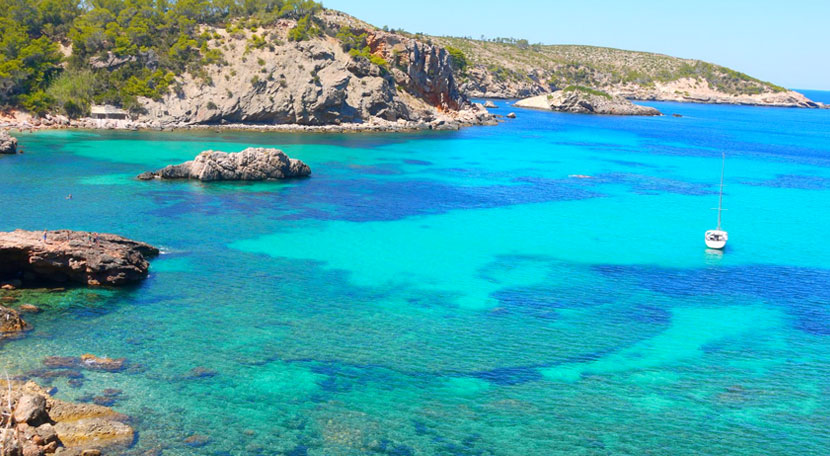 Cala Xarraca is a perfect enclave for lovers of tranquility and hiking. Its waters are especially transparent and the whole area is a world of native colors, vegetation and fauna. If you have the opportunity to visit it by boat, you will also discover even more intimate little coves in the area.
Cala Xuclar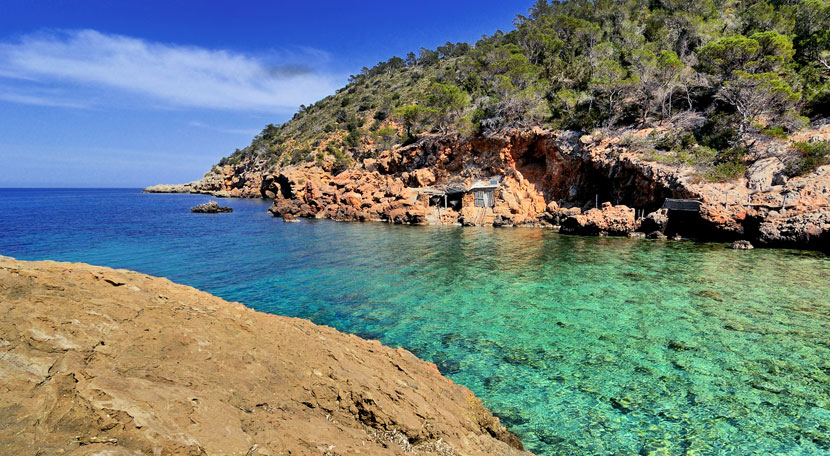 Cala Xuclar is characterized for being one of the beaches of Ibiza less crowded during the high season. Located in a unique natural environment, this beach invites you to discover the marine fauna and flora while diving and the terrestrial fauna and flora walking along its paths. You can't miss it if you want to disconnect from the fast pace of life.
Es pas de s'illa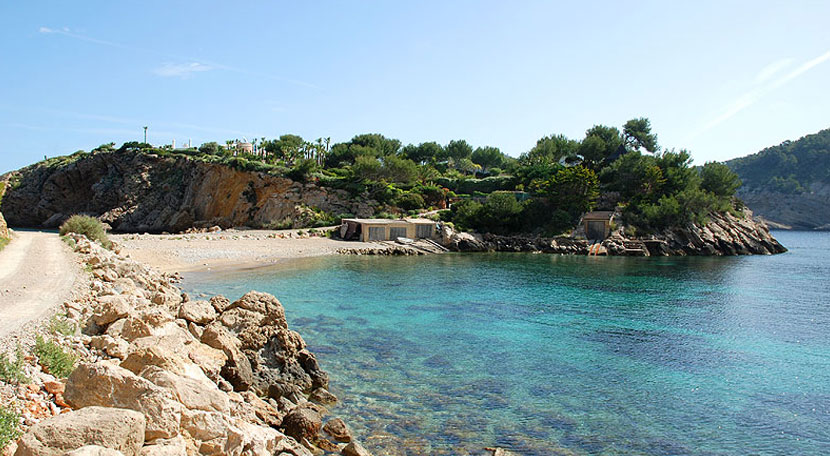 Es Pas de s'illa has complicated access but is worth discovering. This beach in Ibiza has a unique characteristic: it has two slopes, one facing south-east, facing the nearby Port de Sant Miquel and the other, facing north-west, on the open sea. Both offer a fantastic experience, but the inner side is usually quieter.
S'illot d'es renclí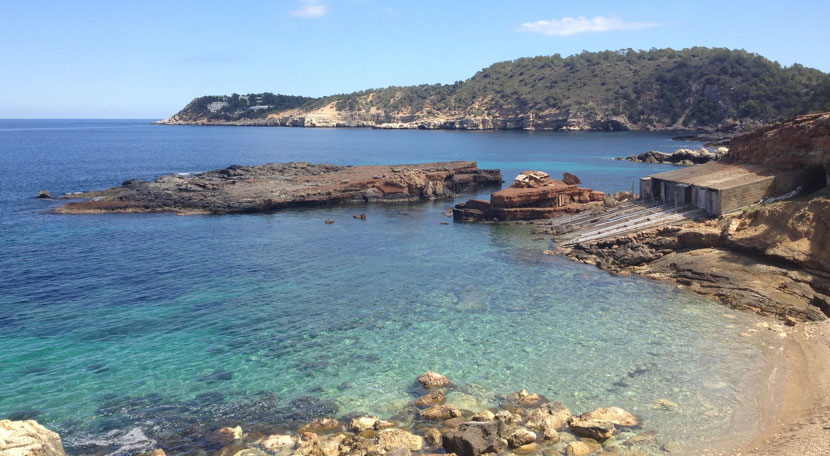 S'Illot d'en Renclí is one of the most picturesque beaches of Ibiza in the north of the island. Surrounded by canyons and typical fishermen's boathouses, on this beach you can escape the hustle and bustle and relax by sunbathing in its warm sands. The rocky areas offer extra privacy and incredible panoramic views.
Accommodation in Ibiza that you can't miss either
Villa Can Coves is very close to these 7 beaches of Ibiza, authentic natural jewels of the island. If you're thinking about renting a villa in Ibiza, our typical house, totally renovated and prepared to make your vacation unforgettable, is the house you are looking for.
It doesn't matter if you come with your family, friends or co-workers. At Villa Can Coves we guarantee you a fantastic experience that will make your holiday in Ibiza truly special.